This invitation measures 5 x 7 inches and prints on a white or cream cover. The price includes single smooth envelopes (white or cream) with an option to add a custom lining to the envelope. The return address price includes black flat ink. Envelope Liners assembled by customer.
All envelope liners are printed digitally. Adhesive and assembly provided by customer.
Coordinating Enclosures Used for inviting guests separately to the ceremony, luncheon, wedding dinner, et cetera.
RSVP Postcard Prints on the same paper as the coordinating enclosures, but also includes printed self address on the backside of the postcard.
Quantity
25
50
75
100
150
add'l 25
Insert
(1 sided)
$29.50
$30.50
$31.50
$32.50
$40.50
$4
Insert
(2 sided)
$48.50
$49.50
$50.50
$51.50
$73.50
$11
RSVP 1 side
(with printed env)
$48.50
$49.50
$50.50
$51.50
$73.50
$11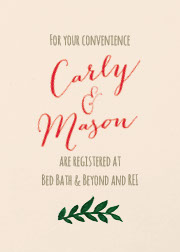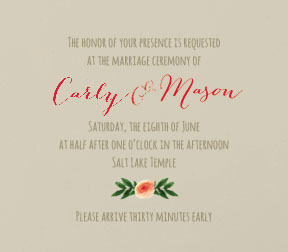 Thank You Photo Postcards These photographic postcards are perfect for thanking your guests after the event. They require less postage than a traditional card and envelope and are a great way to share an image of the event with your guests.
Thank You Folders Prints digitally and includes blank white or cream envelopes.
Save the Dates Simple save the dates print on a 4.25 x 5.5 inch card and mail in a single envelope. Prices shown are for digital printing.
Clicking the above order now button will open our order form in a new tab or window
so you can continue to view invitations for reference as you fill out the requested information.